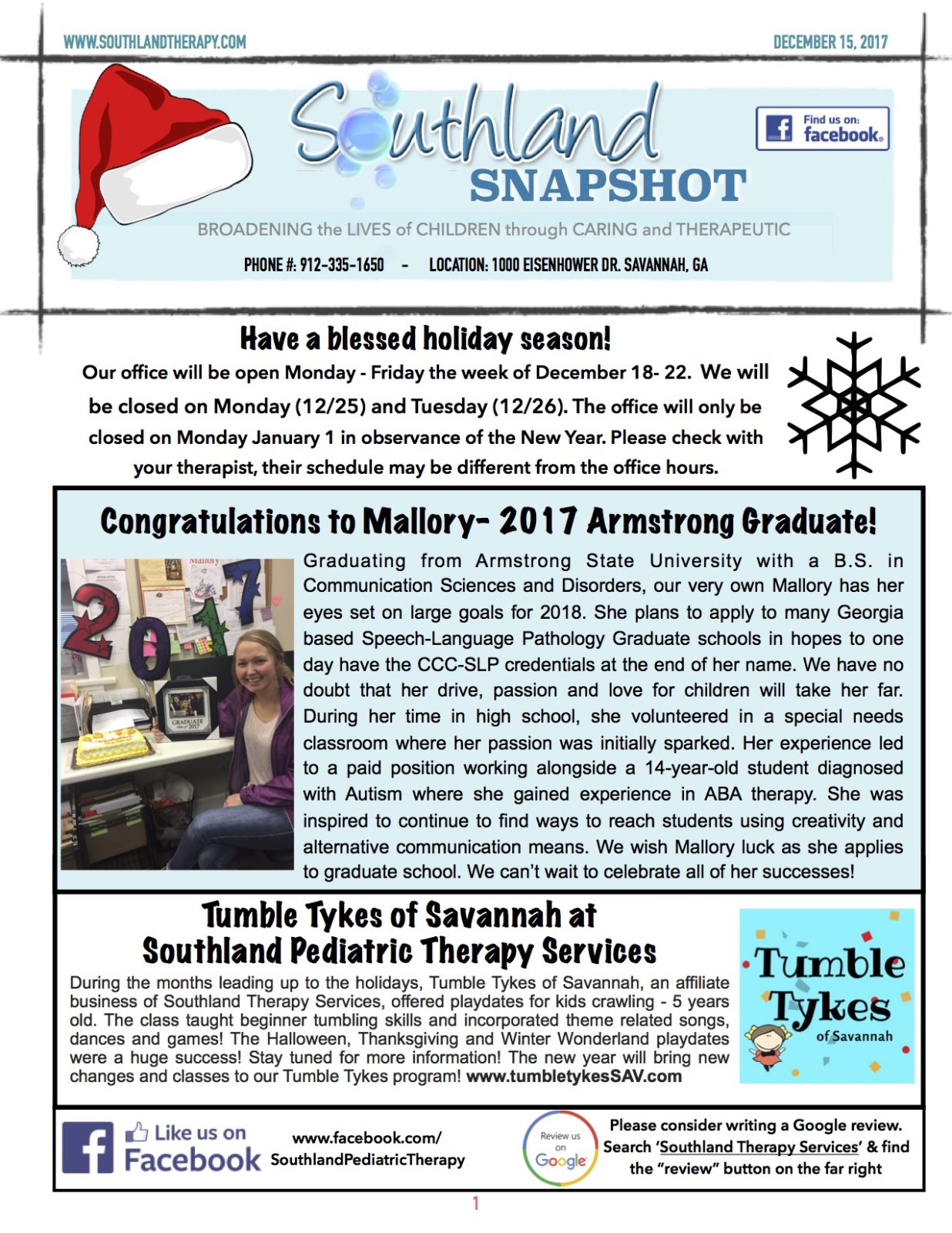 Have a blessed holiday season! 
Our office will be open Monday - Friday the week of December 18- 22.  We will be closed on Monday (12/25) and Tuesday (12/26). The office will only be closed on Monday January 1 in observance of the New Year. Please check with your therapist, their schedule may be different from the office hours.
Congratulations to Mallory- 2017 Armstrong Graduate! 
Graduating from Armstrong State University with a B.S. in Communication Sciences and Disorders, our very own Mallory has her eyes set on large goals for 2018. She plans to apply to many Georgia based Speech-Language Pathology Graduate schools in hopes to one day have the CCC-SLP credentials at the end of her name. We have no doubt that her drive, passion and love for children will take her far. During her time in high school, she volunteered in a special needs classroom where her passion was initially sparked. Her experience led to a paid position working alongside a 14-year-old student diagnosed with Autism where she gained experience in ABA therapy. She was inspired to continue to find ways to reach students using creativity and alternative communication means. We wish Mallory luck as she applies to graduate school. We can't wait to celebrate all of her successes!
During the months leading up to the holidays, Tumble Tykes of Savannah, an affiliate business of Southland Therapy Services, offered playdates for kids crawling - 5 years old. The class taught beginner tumbling skills and incorporated theme related songs, dances and games! The Halloween, Thanksgiving and Winter Wonderland playdates were a huge success! Stay tuned for more information! The new year will bring new changes and classes to our Tumble Tykes program! www.tumbletykesSAV.com
Enmarket Savannah Bridge Run/ Kids' Run 2017
On December 2, 2017 Physical Therapist  Katie Osborne, Owner Dee Dee Mesaros,  Outreach Coordinator Laura Leech, along with her husband Jacob and daughter Abigail, attended the Enmarket Bridge Run in Savannah, Georgia.
The race coordinators did a fabulous job in organizing a wonderfully successful event complete with 5k, 10k, and Double Pump races, a Kids' Run and a Health and Wellness expo the evening before race day. With trolleys coordinated to take racers to the start of their race and family friendly events all throughout the day, they truly did think of everything.
Before the 5k run began, the Kids' Run took place at the Enmarket Bridge Run finish line. Over 30 children took off to run the 1/4 mile loop and finish across the white and black finish line. All of the children who participated were awarded the Southland Therapy Kids' Run finishers medal for all their hard work.
As the Bridge Run Kids' Run 2017 Sponsor, Southland Therapy Services was proud to have members of the Southland team in attendance to show support and participate in the great event. We look forward to taking part in future Savannah Sports Council events.
Thank you to all who attended, adorned their blue Southland race shirts, and helped make our race day extra special!