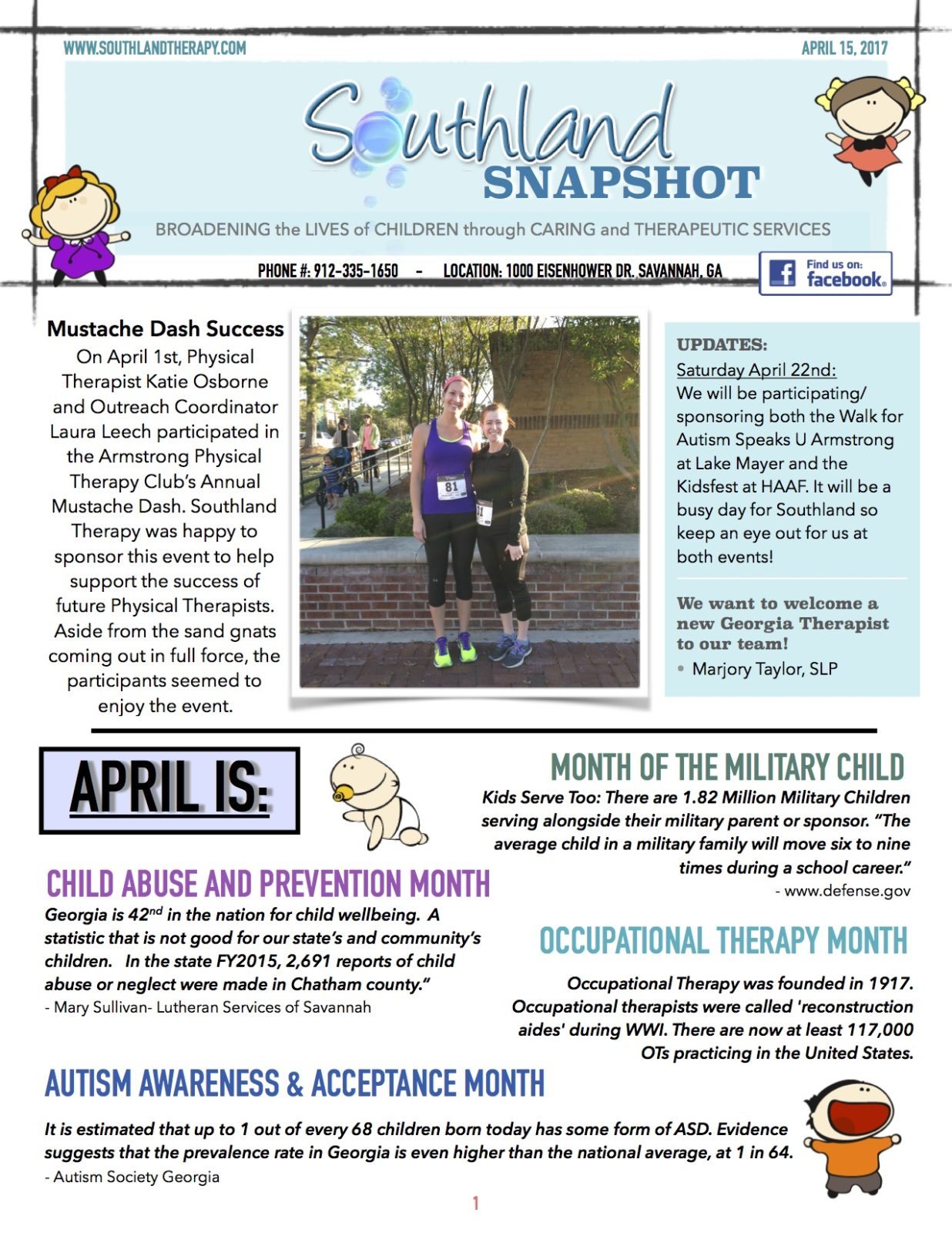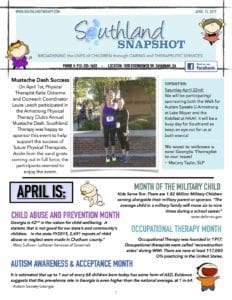 Mustache Dash Success:
On April 1st, Physical Therapist Katie Osborne and Outreach Coordinator Laura Leech participated in the Armstrong Physical Therapy Club's Annual Mustache Dash. Southland Therapy was happy to sponsor this event to help support the success of future Physical Therapists. Aside from the sand gnats coming out in full force, the participants seemed to enjoy the event.
UPDATES: 
Saturday April 22nd: We will be participating/ sponsoring both the Walk for Autism Speaks U Armstrong at Lake Mayer and the Kidsfest at HAAF. It will be a busy day for Southland so keep an eye out for us at both events!
We want to welcome a new Georgia Therapist to our team!
APRIL IS:
Month of the Military Child:
Kids Serve Too: There are 1.82 Million Military Children serving alongside their military parent or sponsor. "The average child in a military family will move six to nine times during a school career."
Child Abuse and Prevention Month:
Georgia is 42nd in the nation for child wellbeing.  A statistic that is not good for our state's and community's children.   In the state FY2015, 2,691 reports of child abuse or neglect were made in Chatham county."
- Mary Sullivan- Lutheran Services of Savannah
Occupational Therapy Month:
Occupational Therapy was founded in 1917. Occupational therapists were called 'reconstruction aides' during WWI. There are now at least 117,000 OTs practicing in the United States. 
Autism Awareness & Acceptance Month:
It is estimated that up to 1 out of every 68 children born today has some form of ASD. Evidence suggests that the prevalence rate in Georgia is even higher than the national average, at 1 in 64.
- Autism Society Georgia
I graduated with my BS in Exercise Science from Georgia College & State University in Milledgeville, GA and then went on to receive my DPT from the University of St. Augustine for Health Sciences in St. Augustine, Florida. I have been a PT for 5 years, with 4 of those being in the field of pediatrics. I love the daily challenge of thinking outside the box to get kids to work towards their therapy goals in a way that feels like fun and games for them. Helping a child learn and grow is one of the most rewarding feelings and makes for a wonderful job.
I graduated with my Master in Health Science in Occupational Therapy from Georgia Regents University in 2015. I have been working as an OT for 2 years. I also work at Memorial Hospital. I was recently certified as a feeding therapist and really enjoy the new challenge. My favorite part of the job is getting to know the kids and their families and seeing how I can help them progress over time. My hobbies include exploring new places and spending time outdoors. I'm originally from Chicago and have a miniature dachshund named Teddy.
Hannah Hood:
I graduated in 2010 with a MS in Communication Sciences and Disorders from Armstrong Atlantic State University. I enjoy working with children who have expressive and receptive language disorders, articulation/phonological disorders, disfluencies, oral motor deficits, autism, and other communication difficulties. I have experience working with families in the home environment as well as the clinic setting. I am  GA licensed and ASHA certified.  I am  from the Savannah area and have been with Southland since 2010.
"Let's Talk autism" Event:
The event, held on April 8, 2017, was a success! Not only were there participants in our office, the event was also broadcasted live on our Southland Therapy Facebook page. If you missed it, please visit and "like" our Facebook page, and watch the videos. Southland Speech Therapist Cindy Green and Occupational Therapist Tyneise Seaborough, presenters at the event, were excited to deliver hope to the attendees in the form of strategies! OT Tyneise continued, "Parents left empowered with tools and strategies in their hands to assist with smoother transitions and decrease some of the challenging behaviors that they encounter on a daily basis. The attendees created individual social stories that were meaningful to them in order to deal with a pressing situation that they were currently facing. Upon seeing the completed product, they felt accomplished and were very grateful!" Thank you to all who attended and viewed the event. We are eager to share more events like this with you in the future.
Find us online: www.facebook.com/SouthlandPediatricTherapy