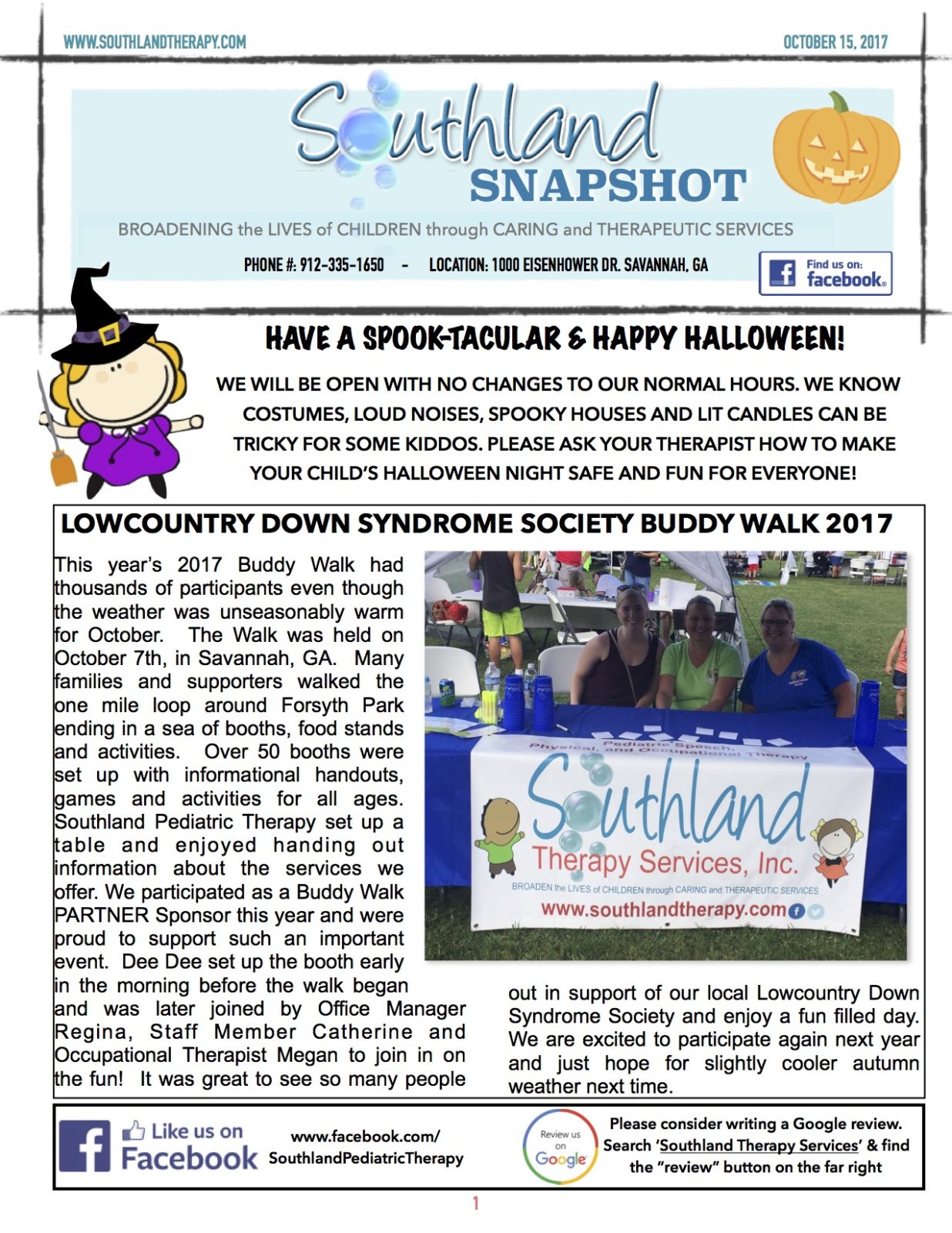 CLICK HERE TO VIEW OUR OCTOBER NEWSLETTER!
HAVE A SPOOK-TACULAR & HAPPY HALLOWEEN! 
WE WILL BE OPEN WITH NO CHANGES TO OUR NORMAL HOURS. WE KNOW COSTUMES, LOUD NOISES, SPOOKY HOUSES AND LIT CANDLES CAN BE TRICKY FOR SOME KIDDOS. PLEASE ASK YOUR THERAPIST HOW TO MAKE YOUR CHILD'S HALLOWEEN NIGHT SAFE AND FUN FOR EVERYONE! 
Lowcountry Down Syndrome Society Buddy Walk 2017
This year's 2017 Buddy Walk had thousands of participants even though the weather was unseasonably warm for October.  The Walk was held on October 7th, in Savannah, GA.  Many families and supporters walked the one mile loop around Forsyth Park ending in a sea of booths, food stands and activities.  Over 50 booths were set up with informational handouts, games and activities for all ages.  Southland Pediatric Therapy set up a table and enjoyed handing out information about the services we offer. We participated as a Buddy Walk PARTNER Sponsor this year and were proud to support such an important event.  Dee Dee set up the booth early in the morning before the walk began and was later joined by Office Manager Regina, Staff Member Catherine and Occupational Therapist Megan to join in on the fun!  It was great to see so many people out in support of our local Lowcountry Down Syndrome Society and enjoy a fun filled day. We are excited to participate again next year and just hope for slightly cooler autumn weather next time.
Did you know it's ….  NATIONAL PHYSICAL THERAPY MONTH?
We are excited to showcase some of our fabulous therapists in honor of their amazing and professional performances. Southland couldn't be more proud of the handwork and dedication they strive for each and every day. Please visit our Facebook page to read the biographies of our Physical Therapists. We have been, and will continue, posting them all month long! 
A special thank you to all our Physical Therapists for their commitment to serving the children of GA and SC!
Alex Receives AMtryke With Big Smiles
On September 6, 2017, three-year old Alex, a patient of Southland Physical Therapist Holly, received his AM16 Foot Cycle AmTryke from AMBUCS. With big smiles, Alex put on his shiny red helmet and took his first lap around the office. "The process to get his tricycle took about 2 months," said PT Holly. "The AM16 tryke promotes so many amazing things like balance, bilateral coordination, body awareness, as well as building trunk and lower extremity strength." From their website:, "AMBUCS is a national non-profit service organization dedicated to creating mobility and independence for people with disabilities." The AMBUCS website explained that, on average, they donate over 75 AmTrykes per year to the Savannah community.  Holly believes that in her three years at Southland, she has helped over ten patients receive an AmTryke therapeutic tryke. "I have at least three children lined up to receive their trykes this November," she stated, "with possibly a few more applications lined up after that." Southland has partnered with AMBUCS of Savannah for many years and seeing those big smiles on such deserving faces makes it all worthwhile. Way to go Holly! Congratulations Alex!