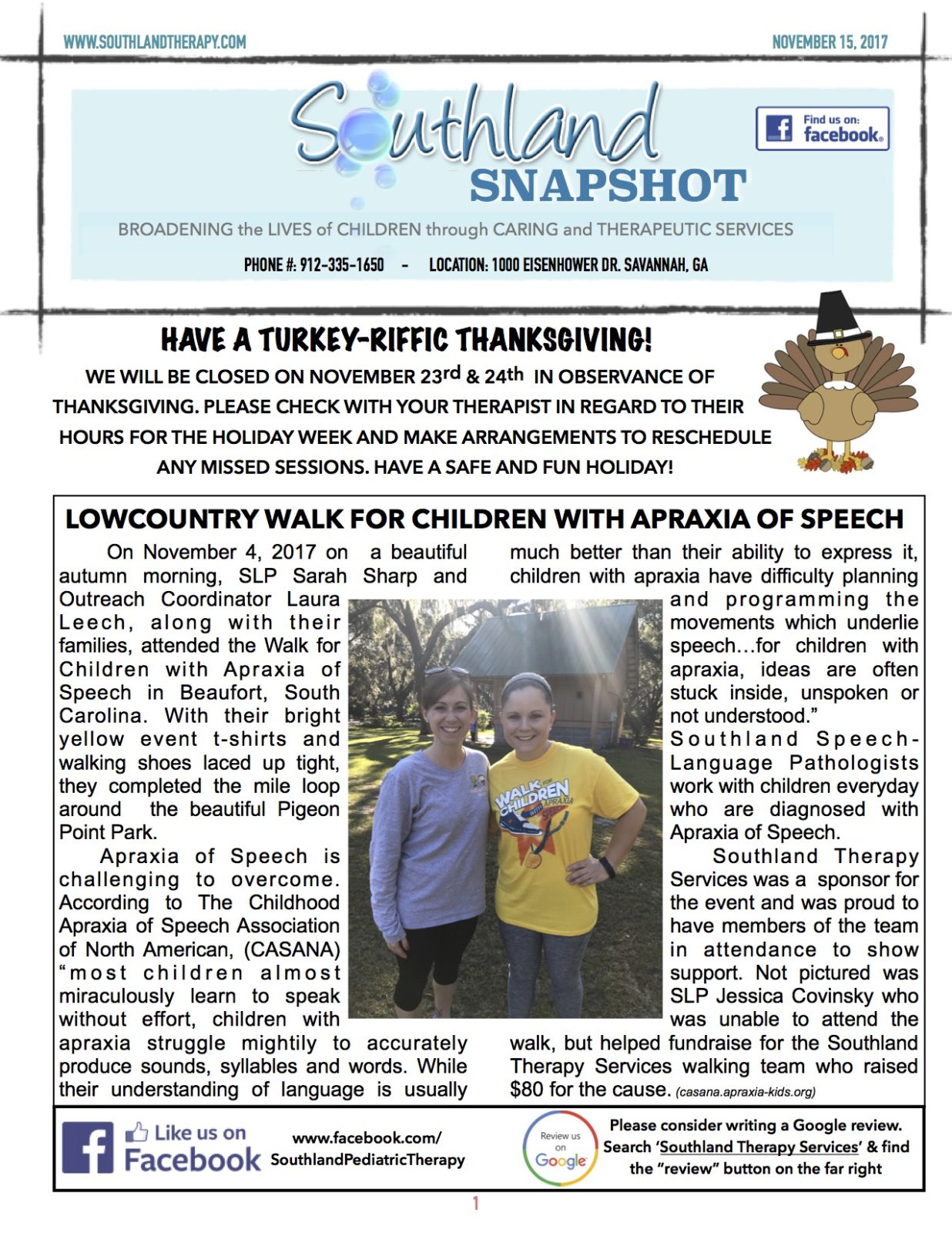 Click here to read the November Newsletter!
HAVE A TURKEY-RIFFIC THANKSGIVING! 
WE WILL BE CLOSED ON NOVEMBER 23rd & 24th  IN OBSERVANCE OF THANKSGIVING. PLEASE CHECK WITH YOUR THERAPIST IN REGARD TO THEIR HOURS FOR THE HOLIDAY WEEK AND MAKE ARRANGEMENTS TO RESCHEDULE ANY MISSED SESSIONS. HAVE A SAFE AND FUN HOLIDAY! 
LOW COUNTRY WALK FOR CHILDREN WITH APRAXIA OF SPEECH
On November 4, 2017 on  a beautiful autumn morning, SLP Sarah Sharp and Outreach Coordinator Laura Leech, along with their families, attended the Walk for Children with Apraxia of Speech in Beaufort, South Carolina. With their bright yellow event t-shirts and walking shoes laced up tight, they completed the mile loop around  the beautiful Pigeon Point Park.
Apraxia of Speech is challenging to overcome. According to The Childhood Apraxia of Speech Association of North American, (CASANA) "most children almost miraculously learn to speak without effort, children with apraxia struggle mightily to accurately produce sounds, syllables and words. While their understanding of language is usually much better than their ability to express it, children with apraxia have difficulty planning and programming the movements which underlie speech…for children with apraxia, ideas are often stuck inside, unspoken or not understood."
Southland Speech-Language Pathologists work with children everyday who are diagnosed with Apraxia of Speech.
Southland Therapy Services was a  sponsor for the event and was proud to have members of the team in attendance to show support. Not pictured was SLP Jessica Covinsky who was unable to attend the walk, but helped fundraise for the Southland Therapy Services walking team who raised $80 for the cause. (casana.apraxia-kids.org)
During the months leading up to the holidays, Tumble Tykes of Savannah, an affiliate business at Southland Therapy Services, has offered playdates for kids crawling - 5 years old. The class teaches beginner tumbling skills and incorporates theme related songs, dances and games! The October playdate was a huge success and our November 18th Turkey Tumble Playdate is almost full. The Winter Wonderland playdate is open for registration and has spots still available.
Enmarket Bridge Run 2017 Kids' Run Sponsor & Registration Raffle! 
This year's Enmarket Bridge Run will take place on December 2nd in Savannah. There will be 5k/10k races as well as a kids' 1/4 mile run early in the morning before the bridge runs begin. We are excited to be the Kid's Run sponsor for this great event and hope you will join us!  See you there!
We will be raffling off ONE Bridge Run Registration starting later this week- keep an eye on our Facebook page for details on how to win! 
Join Us In Welcoming New Bilingual Georgia SLP - Andrea Concha
I graduated from Florida International University (FIU) in 2017 with a Masters in Speech-Language Pathology. My FIU curriculum emphasized bilingualism since I am fluent in both English and Spanish. I was born and raised in Miami, Florida and am currently an SLP in the Savannah, Georgia clinic. My favorite part of the job is seeing the progress made by my patients. I also love providing positive changes needed for my patients to succeed. I enjoy to travel and, during the last two years have been able to take several road trips: from Miami to Michigan, later Michigan to Tucson. I love trying new foods and learning about different cultures. I am a big dog lover and have 2 dogs of my own. I enjoy trying to make homemade goods and being creative with different arts and crafts projects. I recently joined the Southland Therapy Services team and am excited to offer bilingual services to the patients at the Savannah clinic.