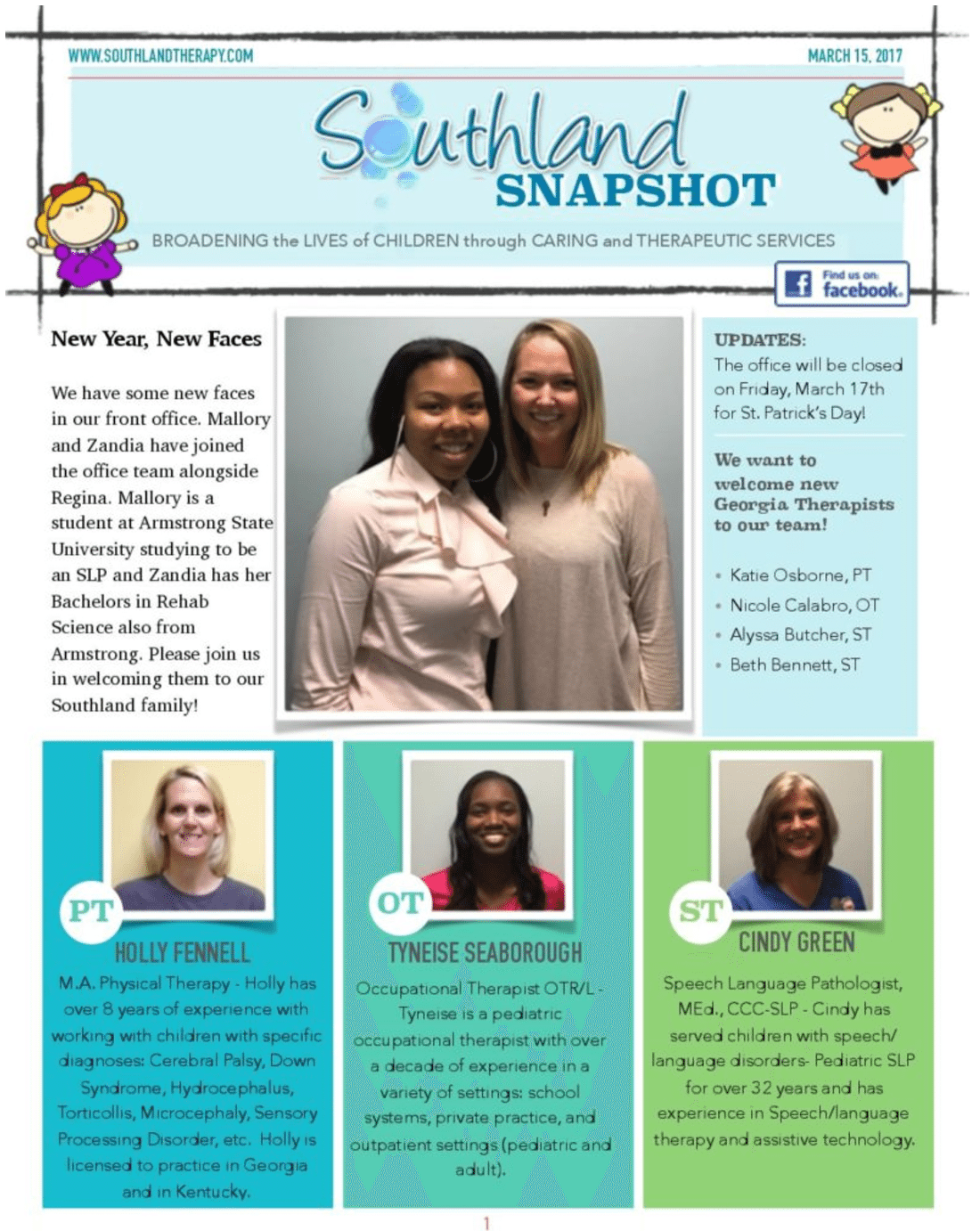 Read Full Newsletter: March 2017
New Year, New Faces
We have some new faces in our front office. Mallory and Zandia have joined the office team alongside Regina. Mallory is a student at Armstrong State University studying to be an SLP and Zandia has her Bachelors in Rehab Science also from Armstrong. Please join us in welcoming them to our Southland family!
UPDATES: NEW THERAPIST
The office will be closed on Friday, March 17th for St. Patrick's Day!
We want to welcome new Georgia Therapists to our team!
Katie Osborne, PT
Nicole Calabro, OT
Alyssa Butcher, ST
Beth Bennett, ST
HOLLY FENNELL
M.A. Physical Therapy – Holly has over 8 years of experience with working with children with specific diagnoses: Cerebral Palsy, Down Syndrome, Hydrocephalus, Torticollis, Microcephaly, Sensory Processing Disorder, etc. Holly is licensed to practice in Georgia and in Kentucky.
TYNEISE SEABOROUGH
Occupational Therapist OTR/L – Tyneise is a pediatric occupational therapist with over a decade of experience in a variety of settings: school systems, private practice, and outpatient settings (pediatric and adult).
CINDY GREEN
Speech Language Pathologist, MEd., CCC-SLP – Cindy has served children with speech/ language disorders- Pediatric SLP for over 32 years and has experience in Speech/language therapy and assistive technology.
BELLA GRACE BARTELS: 4 YEAR OLD MAKES BIG DIFFERENCE
Bella is a patient at Southland Therapy Services and has an inspiring story. Bella was born with type 3 Osteogenesis Imperfecta, also known as brittle bone disease, "a genetic disorder characterized by bones that break easily, often from little or no apparent cause." (oif.org) She has had countless fractures and has undergone years of therapy, surgeries and pain management to cope and repair her bones. "I have been seeing her since September 2015. She walks independently with a posterior walker and uses a pediatric wheel chair long distances. She loves creative play and is very talkative and imaginative. She loves her baby sister, Emma. She loves to try new things and currently started walking up/down steps with help," said Southland Physical Therapist Holly Fennell. She is a strong, remarkable young lady!
Recently "Bella Strong" held a fundraiser to give back to the Shriners Hospital for Children in Tampa and Chicago. Needing to travel back and forth to these hospitals since she was 8 weeks old, Bella's organization used her birthday as an opportunity to allow others to give back. Their most recent fundraiser in February 2017 was a great success and was held at Your Pie in Savannah. We look forward to seeing all the progress Bella makes alongside her therapist Holly and wish her all the best!
"LET'S TALK AUTISM" EVENT: APRIL 8, 2017
Struggling with transitions? Is communication a concern? Join us for "Let's talk strategies for Autism" on Saturday, April 8th at Southland Therapy's Savannah location.
This event will be held in two parts:
Speech Pathologist Cindy will be teaching "Social Stories Development." You will learn how to help your child deal with difficult situations and discover the criteria needed to develop a social story.
Occupational Therapist Tyneise will be teaching "Visual Supports for Transitioning." She will explain why transitions are difficult for some children and help you Identify various types of visual supports for transitioning in your day to day life.
What to bring: Magazines, pictures of interest for your child (for make and take)