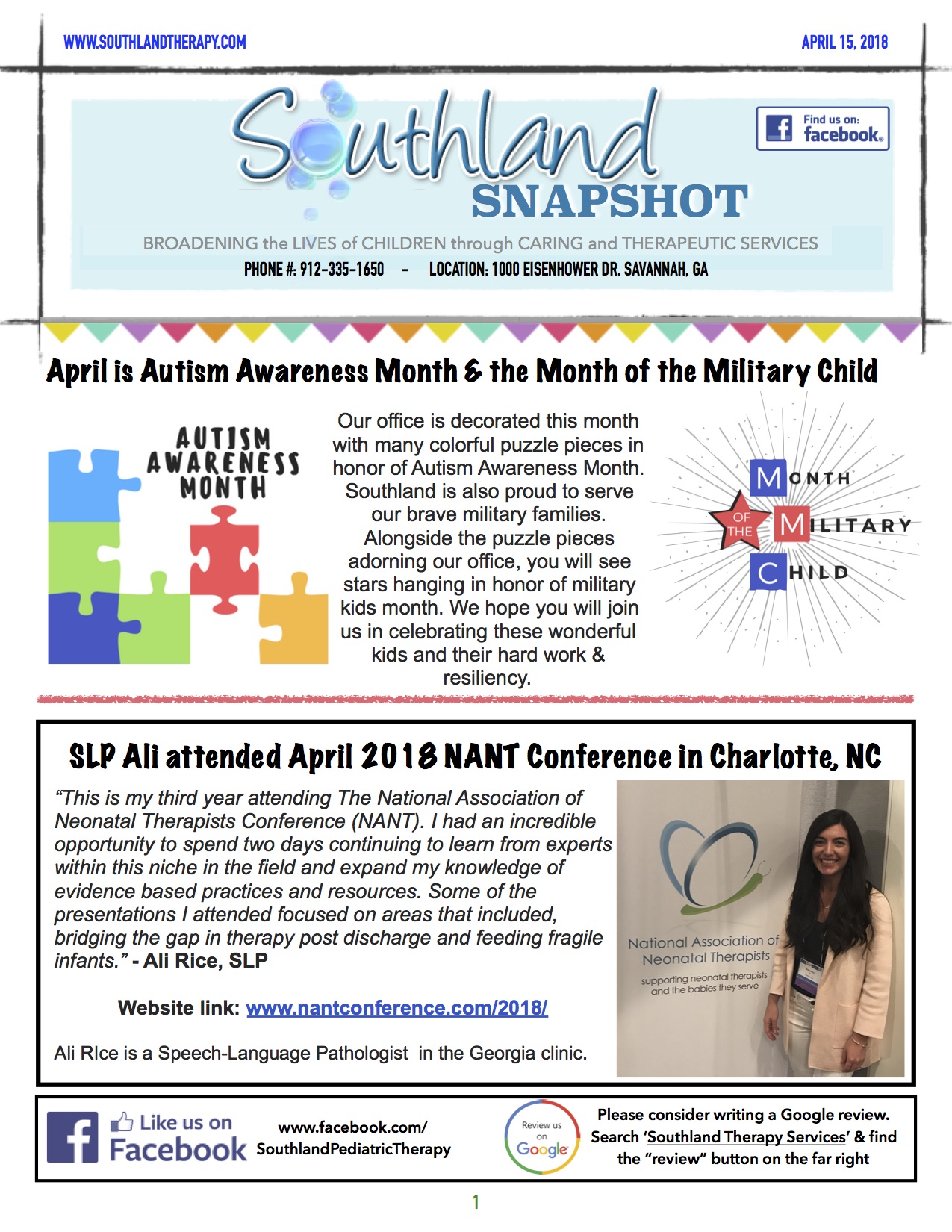 April is Autism Awareness Month & the Month of the Military Child
Click here to read the full PDF newsletter
Our office is decorated this month with many colorful puzzle pieces in honor of Autism Awareness Month. Southland is also proud to serve our brave military families. Alongside the puzzle pieces adorning our office, you will see stars hanging in honor of military kids month. We hope you will join us in celebrating these wonderful kids and their hard work & resiliency.
SLP Ali attended April 2018 NANT Conference in Charlotte, NC
"This is my third year attending The National Association of Neonatal Therapists Conference (NANT). I had an incredible opportunity to spend two days continuing to learn from experts within this niche in the field and expand my knowledge of evidence based practices and resources. Some of the presentations I attended focused on areas that included, bridging the gap in therapy post discharge and feeding fragile infants." – Ali Rice, SLP
Website link: www.nantconference.com/2018/
Ali RIce is a Speech-Language Pathologist in the Georgia clinic.
SUPERHERO SCRAMBLE AT GSU A 'SUPER' SUCCESS
For the second year in a row, Southland Pediatric Therapy Services sponsored the Doctor of Physical Therapy Club's Superhero Scramble fun run. Donning superhero apparel and bundling up for a chilly
Savannah morning, Owner Dee Dee, Outreach Coordinator Laura (with daughter Abigail), and PT Katie were all smiles on March 31, 2018 as the event began. Physical Therapist Katie ran the 10k race while Dee Dee and Laura manned the table and handed out Southland cups, brochures and goodies. "We love supporting the students at GSU," Laura stated, "the PT and SLP students are the future of the therapy field and I think it's awesome for them to see our organization out at these events and showing up." A few days later Southland attended the GSU career fair which was a great success!
Easter at Southland
In the week leading up to Easter, our patients worked hard to make adorable bunny themed crafts. After a week of being creative with our therapists, they were ready to hippity-hop into the Easter weekend.
MAY 2018 FUN IN THE SUN RAFFLE
Keep an eye on our Facebook page for details on how to win our "FUN IN THE SUN" Summer Kick-Off Raffle! The gift basket will include lots of fun summer goodies like sidewalk
chalk, bubbles, sand toys and more! (with a few surprises!) Stay tuned for more information!
Happy Occupational Therapy Month
We want to wish our Southland Occupational Therapists a happy OT month. Thank you for all your hard work. Georgia OTs: Megan & Nicole and South Carolina OTs: Bernadette, Camille, Charly, Bridget & Melinda- We are lucky to have you on our team!