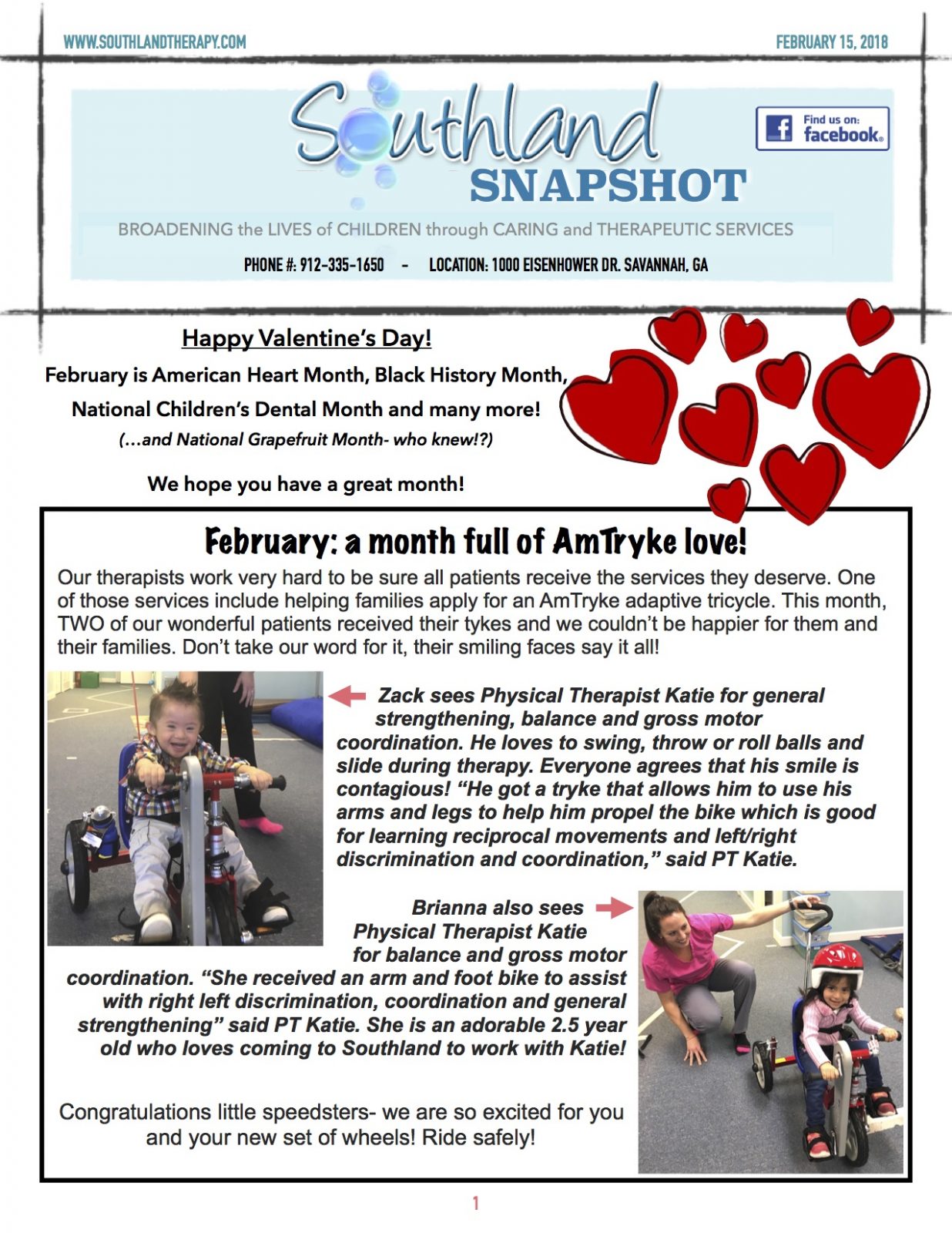 Happy Valentine's Day! 
February is American Heart Month, Black History Month, National Children's Dental Month and many more! 
(…and National Grapefruit Month- who knew!?) 
We hope you have a great month! 
February: a month full of AmTryke love! 
February: a month full of AmTryke love! 
Our therapists work very hard to be sure all patients receive the services they deserve. One of those services include helping families apply for an AmTryke adaptive tricycle. This month, TWO of our wonderful patients received their tykes and we couldn't be happier for them and their families. Don't take our word for it, their smiling faces say it all!
Zack sees Physical Therapist Katie for general strengthening, balance and gross motor coordination. He loves to swing, throw or roll balls and slide during therapy. Everyone agrees that his smile is contagious! "He got a tryke that allows him to use his arms and legs to help him propel the bike which is good for learning reciprocal movements and left/right discrimination and coordination," said PT Katie. 
Brianna also sees Physical Therapist Katie for balance and gross motor coordination. "She received an arm and foot bike to assist with right left discrimination, coordination and general strengthening" said PT Katie. She is an adorable 2.5 year old who loves coming to Southland to work with Katie!
Congratulations little speedsters- we are so excited for you and your new set of wheels! Ride safely!
We are happy to introduce our newest Southland baby…
South Carolina Speech-Language Pathologist Kayley John welcomed her son Sullivan Christopher on January 23, 2018. He weighed 8 lbs 3 oz and was 21 inches long!  We are so happy for Kayley and her family and wish them many congratulations on the birth of their beautiful son!
Congratulations from everyone at Southland! 
UPCOMING EVENTS:
MARCH 2:
Matthew Reardon 2018 Autism Conference
Southland is the Sensory Room Sponsor for the event.
MARCH 3:
Junior League Fit Kids Event
Look for our logo on the back of the event t-shirt!
MARCH 10:
Tumble Tykes of Savannah
St. Patrick's Day Play-date. Sign up today!
MARCH 16:
Office will be open the Friday before St. Patrick's Day! 
Gracie named one of South Magazine's Greatest Kids! 
South Magazine asked for submissions for the greatest kids in the south and received more than expected.  "For the first-ever greatest kids contest, south asked Savannahians to submit photos of their kids, and they did—by the hundreds. Then, still leaving it in the hands of the locals, we let readers choose the winners. The results speak for themselves. It's official; the South undoubtedly has the cutest kids around." (excerpt from southmag.com)
We are excited to share that one of Southland's very own was chosen! Gracie has been a patient at Southland for almost a year and sees SLP Marjory for Childhood Apraxia. "Since she has been coming (to Southland) her vocabulary has grown exponentially and she is much more willing to try new words and phrases. She loves working with Miss Marjory and talking to Miss Regina and Miss Zandia," her mother Carrie stated.
Along with her adorable photo, this great biography was written by her dad to highlight her sweet spirit. Her profile was published in the January/ February issue of South Magazine.
"Reagan Grace "Gracie" Wahesh is an active, helpful, and independent 2 1/2-year-old who was born four weeks early and has been on the go ever since. She's shy at first, but after a few minutes, her natural desire to lead comes out. She might not seem as energetic as her little brother, but she loves to climb, slide, swing, and play fetch with her giant golden retriever. She laughs the hardest when she successfully steals her mom's nose. When it is time to relax, she loves to swing in one of the hammocks by the marsh at Palmetto Bluff."
Congratulations Gracie and family! 
We are so proud to have one of the South's greatest kids in our midst!
Like us on Facebook:
www.facebook.com/SouthlandPediatricTherapy
Please consider writing a Google review. Search 'Southland Therapy Services' & find the "review" button on the far right.